Clematis in Fuchsia
24 inches x 24 inches Watercolor
$900 unframed
I am enjoying working in a square format, it is exciting to see if I can make the design work!
ORANGE AND YELLOW FLOWERS
I honestly don't know the name of this plant. The oranges and yellows in the flower were amazing so this became the challenge to see if I could make the colors fibrate!
24 inches x 24 inches watercolor
$900
Yellow Dancers
2 ft x 2 ft watercolor Sold
will do commiss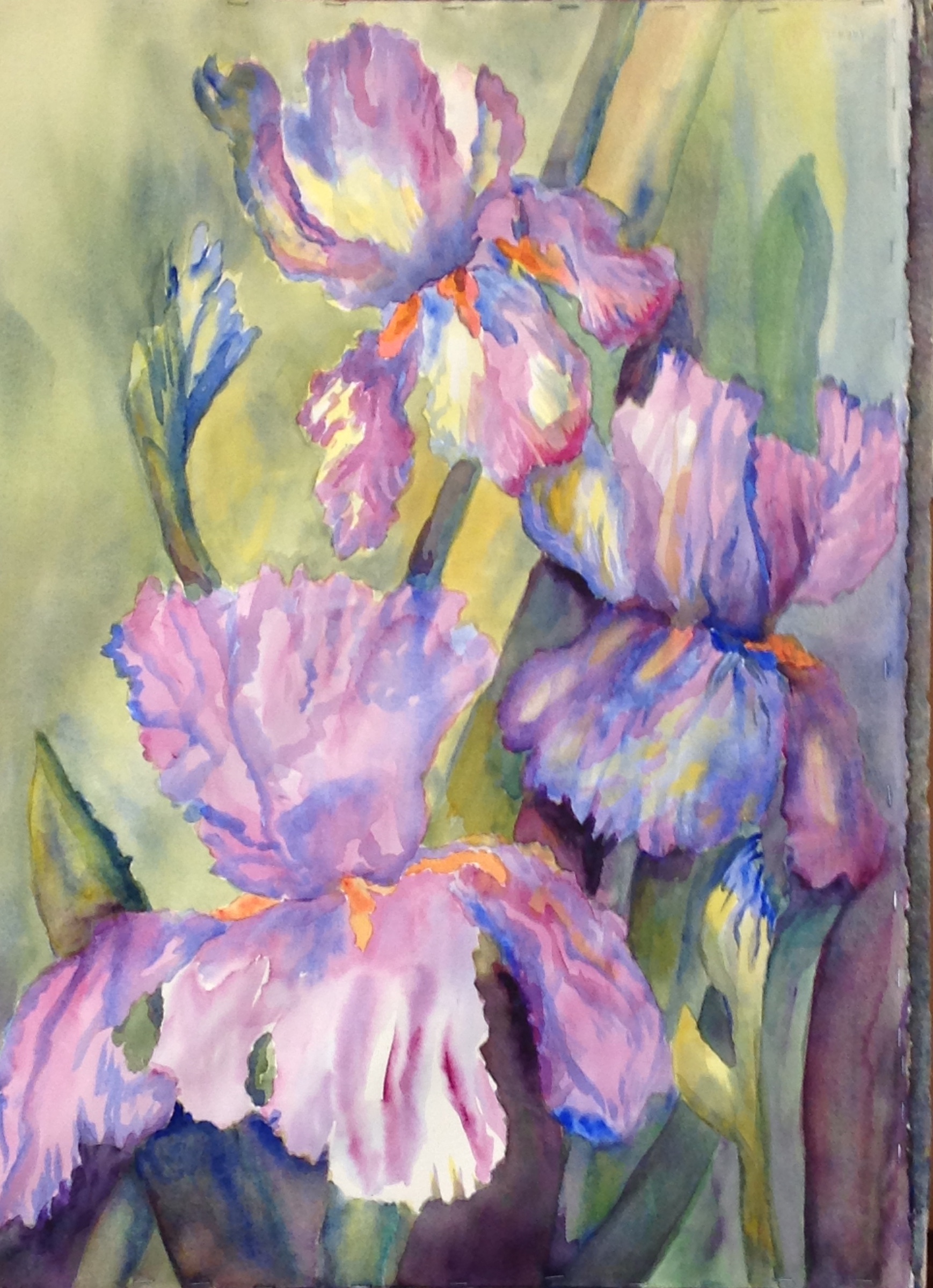 Old Fashioned Iris
Purple Iris were the first Irises I ever saw and I was hoping to recreate my first memories in this painting.
Watercolor Size 22" x 30"
Price $1200 framed
Hot Pinks Fun
Coneflowers in hot pink and that deep brown color in the center has always been delightful for me. This painting came from a wonderful garden in upstate New York during a family reunion. Hope you Enjoy them as much as I.
Carnival Time
Watercolor • 6"H x 6"W
A1048
Desert Roses
Watercolor • F1055
All proceeds from the sale of this painting will be donated to Bear Valley Community Healthcare District's Hospital Auxiliary, a non-profit organization. Tax ID#33-128660 501(c)3.
Diagonal Iris Yellow to Orange
Purple Plums
Full sheet watercolor 22" x 28"
$1500 framed
Won first place in the Coachella Valley Watercolor Society Annual Show 2017.
My Funny Valentine
Peonies Pink Perfume
Watercolor • 23"H x 17"W
F1077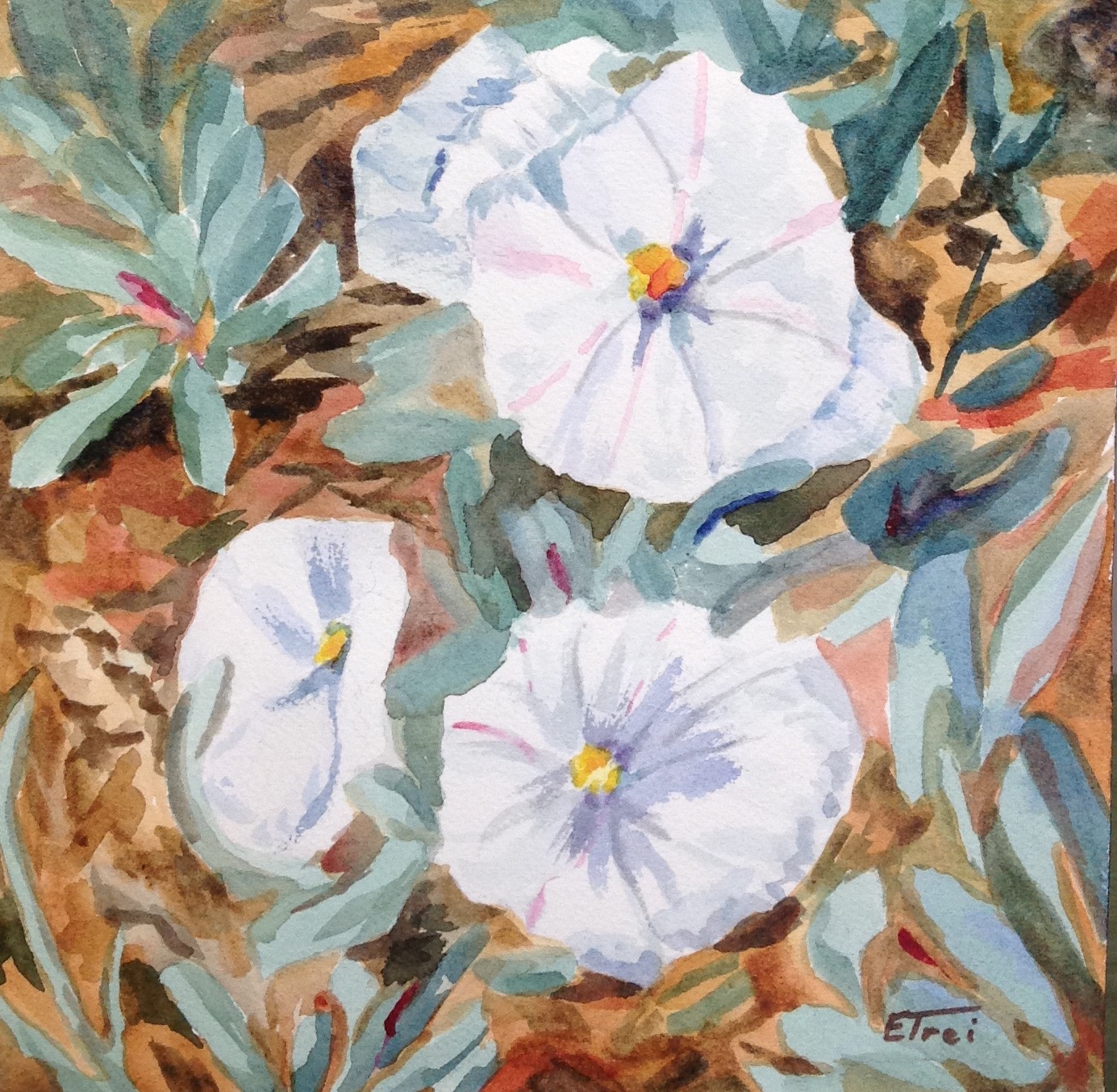 Desert Rose
This little flower is about 6 inches off the ground and full of thorns. I did three of these paintings in 20"x 20", and 10" x10" which can be in a group. No matter how I paint this I always love it.
Tulips in Spring
I loved the bright fuscia and yellow in the fresh flowers and enjoyed every moment of painting them.
Size 18" x 24"
Price unframed $300
Fall Wild Apples
Size 18" x 24"
Price unframed $ 400
Apples in Ruby Reds
Loved working with the Reds to Magenta to obtain this brilliant look.
Size 10" x 10"
Price unframed $ 250
Coachella Valley Watercolor Society won Monthly Show February 2018
Magnolias
Learned a new painting technique and this one surprised me!
Size 5" x 12"
Price unframed $200
Gerber Daisies
size 5 1/2 " x 8 1/2"
Price unframed $200
Yellow Bells
This a new plant I have in Indio, CA and the bright yellow against the green is 'cheery'!
Size 14" x 18"
Price unframed $ 400
Framed $600
Yellow Gold Iris
These were painted with about 16-20 different yellows and it was exciting to see how each yellow could play and offer the warm tones and the cool tones.
size 22" x 30"
Unframed $900
Framed $1200
Magnolia Richness
I have been doing more Magnolias again and planning to do a 2 large paintings, 1 a watercolor and another an oil of Magnolias. These lovely flowers provide that feeling of "Southern Hospitality".
Size 11" x 14"
Framed $ 550
Unframed $400
Morning Magnolias
The "Morning Magnolias" were painted in San Diego after dropping my Husband off for a 7:00 am, yes 7:00 am golf time. The sun was coming through the Magnolias which made them glow yellow. This was a morning which pleased my husband and all my visual senses for a great painting.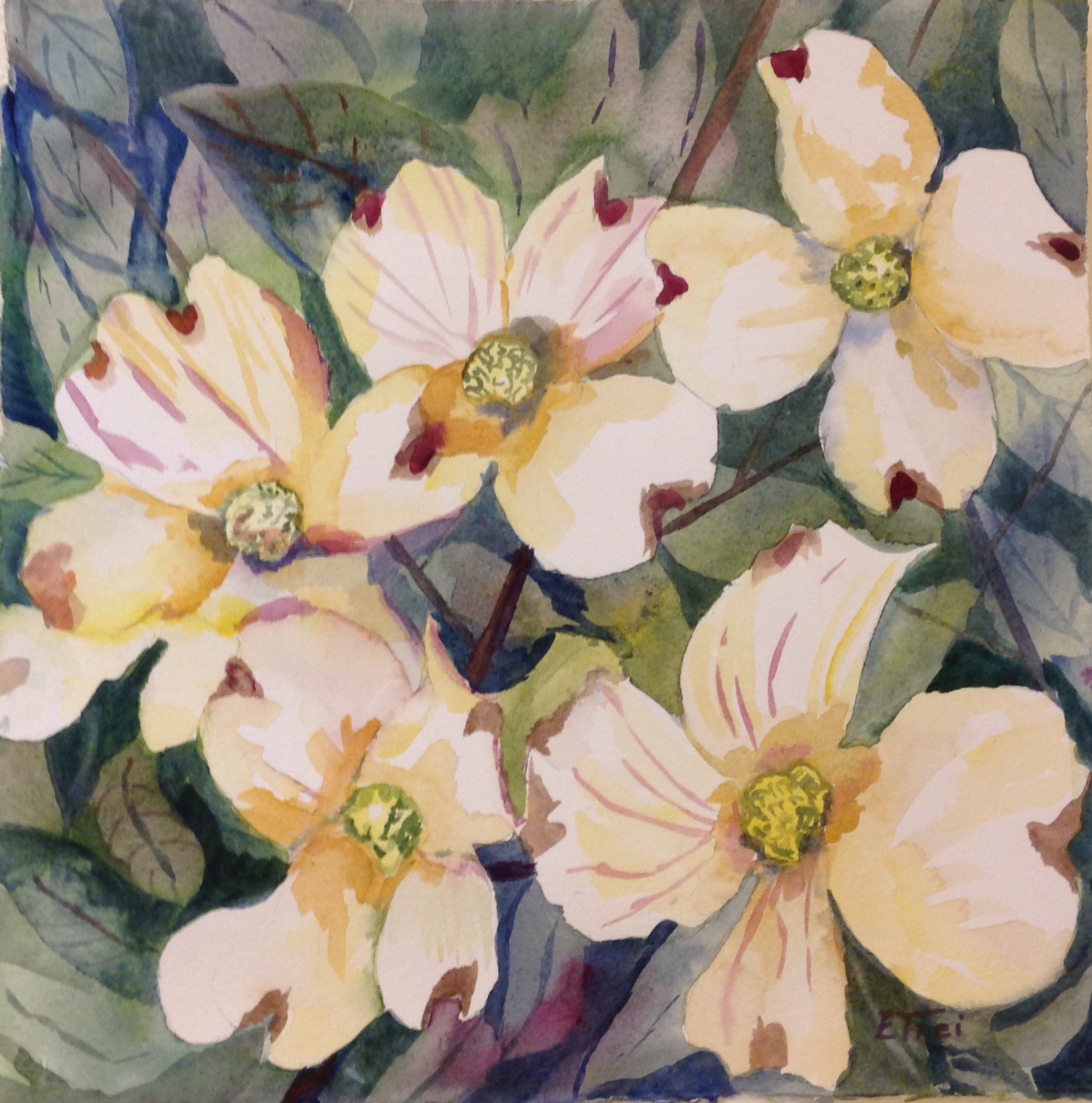 Dogwood II
12" x 12" watercolor on Arches paper
$150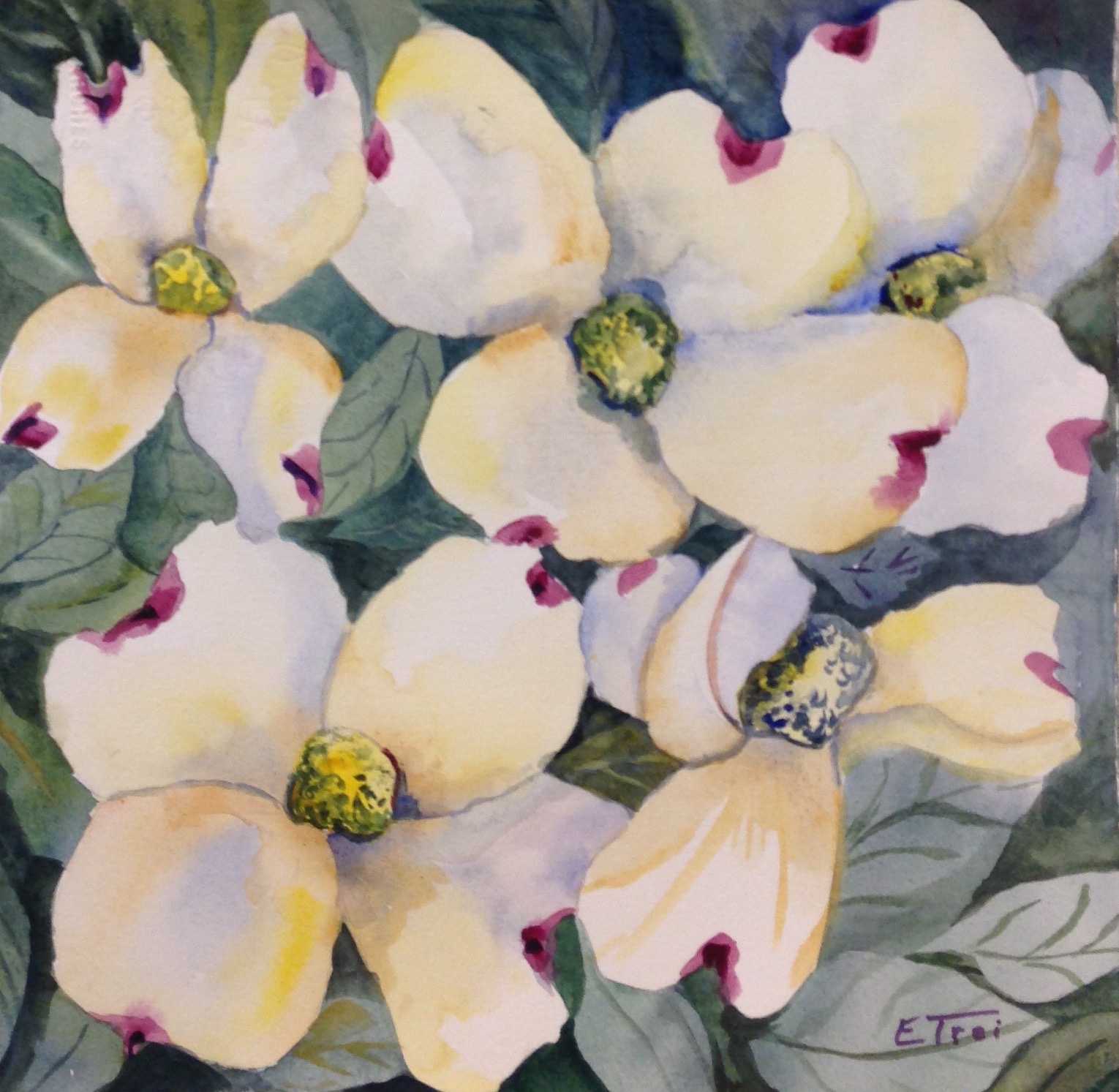 Dogwood Ii
12" x 12" watercolor
$150
Magnolias and Dogwoods
Each of the paintings are 12 x 12 inches and can be framed for a group.
$ 600 for the set of four